Unique Cake Flavours That Will WOW Your Guests
Cakes are great for after-dinner treats, parties, happy times, and almost any event. Cakes can have different flavors like red velvet or vanilla. Nowadays, you can make cakes taste and look however you like. The perfect cake flavor can make any event or desire complete. But the fact is that some flavors don't taste good together. Some mixtures taste better than others. Cakes are yummy and common at parties, and it's your job as the host to serve your guests the best options.

Sometimes, you want something more than the usual flavors of cake like chocolate, vanilla, strawberry, earl grey, and black forest. If you want to surprise your guests with unusual and delicious cake flavors, use this list of quirky options. Keep this page and be grateful to us later.
1. Tres Leches Cake (Milk Cake)
What is a Tres Leches Cake? 
It is a cake that is soaked in three kinds of milk: evaporated milk, condensed milk, and whole milk.
Most people I know love Tres Leches Cake, including me. I like that it's not too sweet and easy to make. I can make it in advance and it's delicious. Mixing in beaten egg whites makes the cake lighter and fluffier. Tres leches cake is a cake with three milks in it - evaporated milk, sweetened condensed milk, and whole milk. It's made by poking holes in a baked cake with a fork and pouring the milk mixture on top.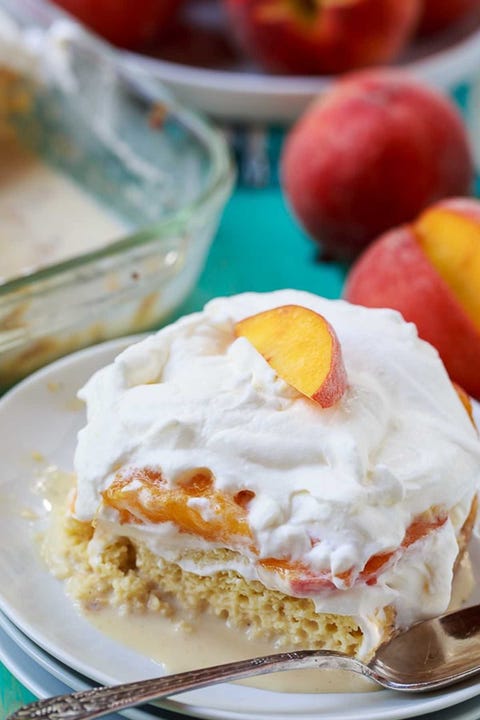 Tres Leches Cake can be explored to different cake flavours such as Peach Bourbon Tres Leches Cake, Thai Milk Tea Tres Leches Cake and even Coffee Tres Leches Cake! 
2. Carrot Cake
Is Carrot Cake Healthy Selection?
Carrot cake is made with less sugar and healthy ingredients such as carrot and nuts. It has Vitamin C but has slightly more calories than usual Chocolate Cake. 
Carrot cake is a yummy cake that has carrot pieces mixed in the batter. Most carrot cake recipes use white frosting made from cream cheese. The mixture for the cake might sometimes have nuts, such as walnuts or pecans, and also spices like cinnamon, ginger, and a mixture of ground spices.

Why does carrot cake taste so good? 
The cake is heavy, but very soft. It has a little bit of a sweet-smelling cinnamon and other spices mixed in. Don't worry, they don't taste like carrots. They are very tasty and you might want more of them. 
It's hard to find carrot cake flavor at bakeries near you. Talk to your skilled baker and see if they can make this flavor for your special event.
3. Red Velvet Cake
What Is So Unique About Red Velvet Cake?
This cake is heavy, but really soft and has the smell of cinnamon and other spices. Don't worry, these don't taste like carrots and they're really yummy. These cakes are not like the typical chocolate cakes you have tried before. These cakes are made with vanilla and some cocoa powder and buttermilk to make them taste even better.
Kids really like to choose Red Velvet Cake because it looks really pretty and red. The cake is soft and light, with a creamy cream cheese icing on top. It makes it really unique. If you're having a party for your child's first or fifth birthday, we suggest getting a Red Velvet Cake because it will impress your guests.
4. Cereal Milk Cake
The cake is very soft but also heavy, and it has a small amount of tasty cinnamon and spices mixed in. Don't worry, they don't taste like carrots and they are yummy. Have you tried Cereal Milk Cake. It's not easy to find, but it's really tasty. Bakeries should think about making this cake because it might become really popular. Do you enjoy drinking milk and eating cereal. If so, you will really like this cake. This taste reminds you of the past and is also yummy. It can also be eaten as a breakfast.

This cake has layers of cake soaked in milk with cereal, filling made fluffy with milk and cereal, and frosting made smooth with cereal milk. Lots of cereal milk flavors in this cake.


5. Dark Chocolate Peanut Butter Cake
This cake is a healthy choice because it has lots of protein and fiber from the Dark Chocolate and Peanut Butter. You won't be sorry for eating it. This cake is made of dark chocolate and peanut butter. It's dense, but really soft and moist. It's even better because it has a creamy peanut butter frosting on top.

I can't think of a cake that tastes better than this one. This cake is made with a delicious mixture of roasted peanut butter and dark chocolate cocoa powder. You can add crunchy peanuts to make it taste better and not boring.

We made a list of 5 special cake flavors for you to enjoy at your next party. We love dark chocolate peanut butter cake because it's both yummy and good for you. Everyone, including old people and kids, will like it.
0 comments